Filling the Gaps: Treatment Options for Missing Teeth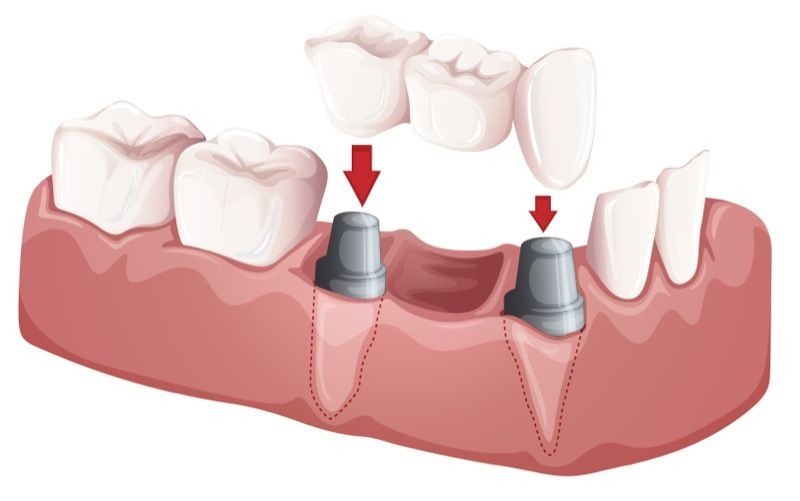 Throughout his career, Dr. Dennis G. Sternberg has built his reputation on creating stunningly beautiful, yet entirely natural-looking smiles. While many of these smiles have been crafted through a combination of cosmetic dentistry treatments, he holds the belief that the goal of restorative dentistry should be to return health, function, and aesthetic appeal to a damaged mouth. Patients should emerge from a restorative treatment with a smile as beautiful as it is healthy.
It makes sense then that the replacement of missing teeth, while largely a restorative procedure, is essential to the health and appearance of the mouth in more or less equal measure. While the most obvious consequence of a missing tooth is its effect on the appearance of the smile, it can also compromise the ability to chew and speak, as well as increase the risk of such serious dental problems as gum disease, infection, and malocclusion.
When he presents treatment options for missing teeth to patients during consultations at his Freehold, NJ dental practice, Dr. Sternberg takes into account their unique oral health needs, aesthetic goals, and budget. He then recommends the treatment plan most likely to produce the best results in that particular case. Whatever option the individual patient chooses is always superior to leaving the missing tooth untreated.
If you are missing one or more of your natural teeth, we encourage you to schedule your initial consultation with Dr. Sternberg today.
How Can Dr. Sternberg Replace Missing Teeth?
Dr. Sternberg has several replacement methods at his disposal for the treatment of missing teeth. These options include:
Dental crowns, bridges, and dentures supported by dental implants: Dr. Sternberg works with the finest, most trusted oral surgeons in the region to provide his patients with implant dentistry of the highest quality. Dental implants are tiny titanium posts that, when surgically embedded in the jaw, act as artificial tooth roots. These posts actually integrate with the jaw bone, essentially becoming part of the patient's natural anatomy, which enables them to provide unrivaled support for restorations such as dental crowns, dental bridges, and dentures. Dr. Sternberg provides these custom-crafted restorations, so you can be assured of the strongest, most durable replacements for your natural teeth possible. Dental crowns are used in the replacement of single missing teeth, and bridges are used to replace multiple missing teeth on a single arch. For patients who are missing all of their teeth on the upper arch, upper arch, or both arches, dental implants can be used to secure dentures.
Traditional fixed dental bridges: For patients who are missing between one and three teeth consecutively, traditional fixed dental bridges remain a viable option. These bridges comprise one to three replacement teeth bookended by dental crowns. These crowns are then attached to the natural teeth on either side of the gap once occupied by the now-missing teeth.
Traditional removable dentures: Dr. Sternberg custom-crafts cosmetic removable dentures from the highest-quality materials to ensure the best possible fit and the most natural possible appearance.
Learn More about Treatments for Missing Teeth
To learn more about the treatment options for missing teeth, please contact the cosmetic dentistry practice of Dr. Dennis G. Sternberg today.
Related to This