The Dental Bridge Procedure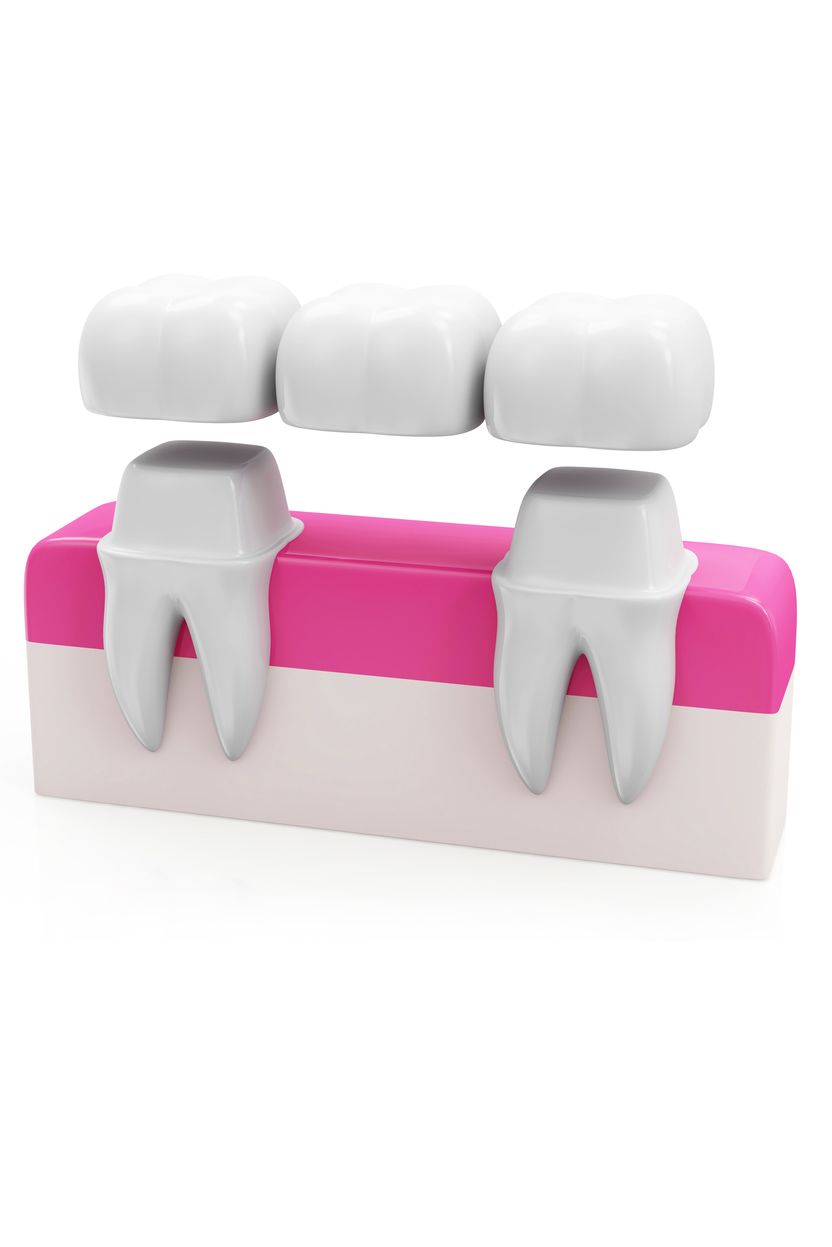 Missing teeth pose more than simply cosmetic problems. When you lose one of your teeth, your body interprets that as a signal that the hard and soft tissues that once supported that tooth are no longer necessary to the health of your mouth. As a result, the gum and jawbone underlying the now-missing tooth begin to degrade. At the same time, the natural teeth adjacent to the gap once occupied by the lost tooth begin to drift toward the empty space. In short, that part of your mouth begins to fall into disrepair.
Fortunately, restorative dentistry offers an outstanding solution to this problem in the form of the dental bridge. Dental bridges are among the most time-tested and effective appliances in all of medicine. However, modern dental bridges are stronger, more durable, and more natural looking than ever before. More importantly, when you attach your dental bridge to dental implants that are surgically embedded into your jawbone, they function just like your natural teeth while preventing the hard and soft tissue degradation associated with tooth loss. Truly, implant-supported dental bridges represent the next best thing to having a mouth full of your own natural, healthy teeth.
If you are missing one or more consecutive teeth, we encourage you to learn more about the dental bridge procedure by visiting Freehold, NJ cosmetic dentist Dennis G. Steinberg today.
The Dental Bridge Procedure
How the dental bridge procedure will be carried out in your particular case depends on whether you opt for a crown-supported dental bridge or an implant-supported dental bridge:
Crown-supported dental bridge: A crown-supported dental bridge comprises between one and three artificial teeth called pontics that are anchored in the mouth by two dental crowns. These dental crowns are attached to the teeth adjacent to the gap once occupied by the now missing tooth or teeth. In order to be a good candidate for a crown-supported dental bridge, you must have healthy teeth adjacent to this gap. Dr. Sternberg will file these teeth down to make room for the crowns to be placed over them. Once these crowns are bonded to the natural teeth, the pontics will fill the gap, completing your smile.
Implant-supported dental bridge: Dental implants are tiny titanium screws that are surgically embedded into the jaw. Once these implants are in place, they integrate with the jawbone through a process called osseointegration. The body cannot distinguish the implants from natural tooth roots, which is why dental implants halt the bone and gum degradation process. After osseointegration takes place, the dental bridge can be attached to the implants, filling the space once occupied by the missing teeth. This method is generally preferable to the crown-supported bridge method as it does not require the alteration of natural teeth. However, it is more expensive.
Learn More about the Dental Bridge Procedure
If you would like to learn more about the dental bridge procedure, or if you would like to schedule your initial consultation with Dr. Dennis G. Sternberg, please contact our cosmetic and restorative dentistry practice today.
Related to This